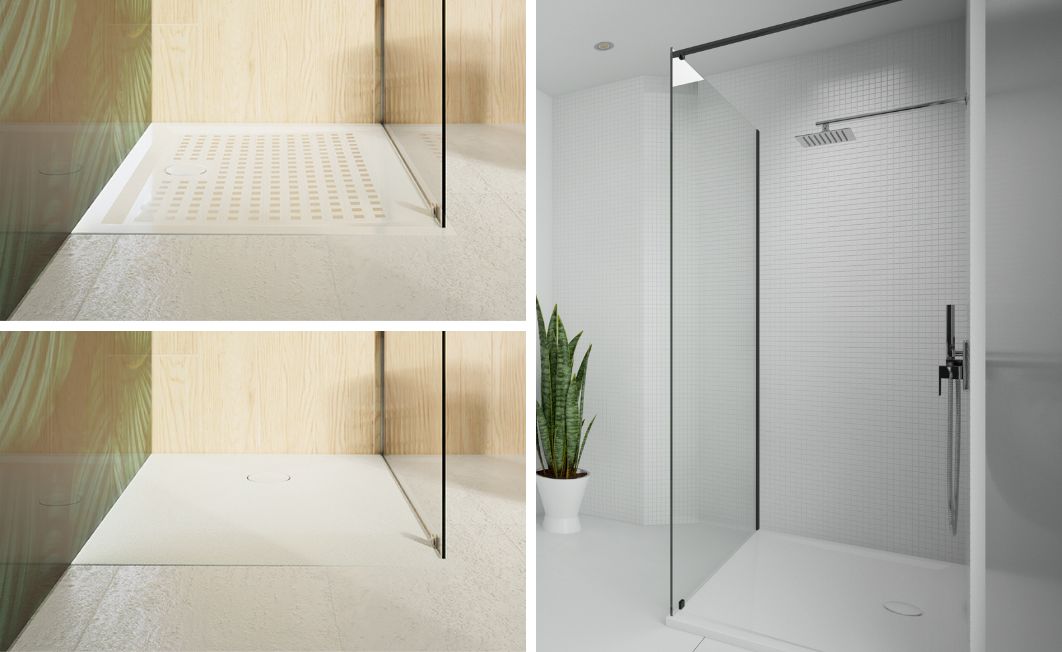 A shower tray for a small bathroom is a product worth selecting carefully to ensure compatibility with the rest of the shower area elements. Equipping a small bathroom presents an interesting challenge. All bathroom components should create a harmonious image. This starts with color choices and extends to the texture of each equipment piece. Bathroom fixtures and elements must harmonize, coming together in a visually pleasing space.
Often, we wonder how to select individual products to make a small bathroom functional and practical. The bathing area is a fundamental part of the bathroom, and without it, the functionality of the bathing area is compromised. We choose a shower enclosure and invest time in fitting it properly. Equally important is choosing the right shower tray for a small bathroom.
Bathroom design should be based on three values:
Functionality, which is fundamental,
Comfort, so we feel good regardless of space size,
Safety, so every user can use it without restrictions.
Shower trays in small bathrooms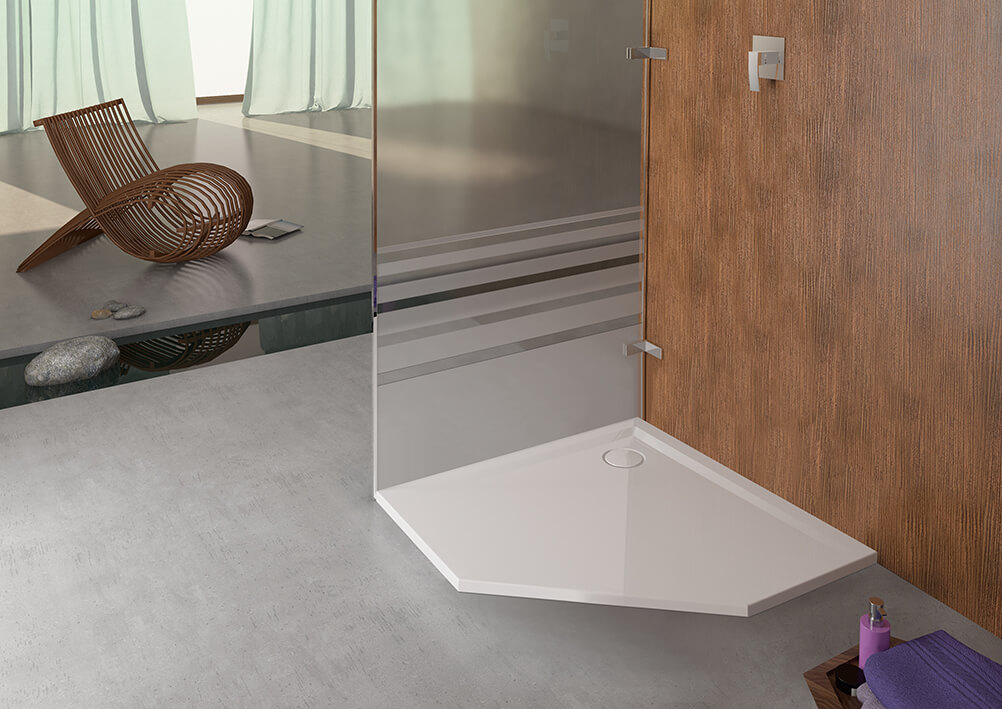 Regardless of the bathroom's size, there are many factors to consider when choosing the perfect shower tray. For small bathrooms, optimal utilization of available space is crucial. Shower trays are not just functional elements but also important design components. A well-chosen shower tray can visually expand the space.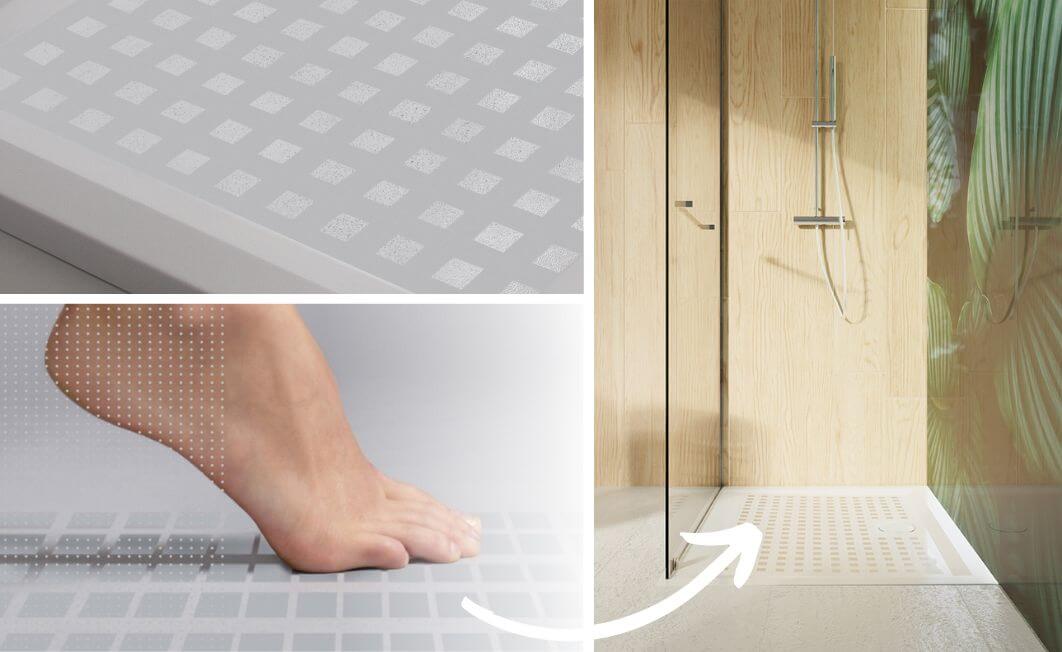 One of the most popular choices for small bathrooms is trays that can be installed level with the floor. Their low height provides a smooth transition between the dry and wet areas in the bathroom, creating an illusion of more space. Corner shower tray installation saves valuable centimetres and provides additional space for other bathroom elements.
Material is also an important factor in shower tray selection. Shower trays made from mineral cast with a textured surface are becoming increasingly popular, mimicking the environment around us.
When it comes to design, opting for a shower tray with simple, minimalist shapes is advisable. Light colors such as white or shades of grey can additionally visually enlarge the space.
Choosing the right shower tray for a small bathroom
Our offering includes a range of shower tray options for small bathrooms. Several product series provide a wide choice of shower enclosure enhancements. A well-matched selection of products can turn a small bathroom into a home spa, offering relaxation at your fingertips. In this article, we introduce shower trays for small bathrooms, focusing particularly on those with increased safety features.
Structural shower trays - enhancing quality and safety in your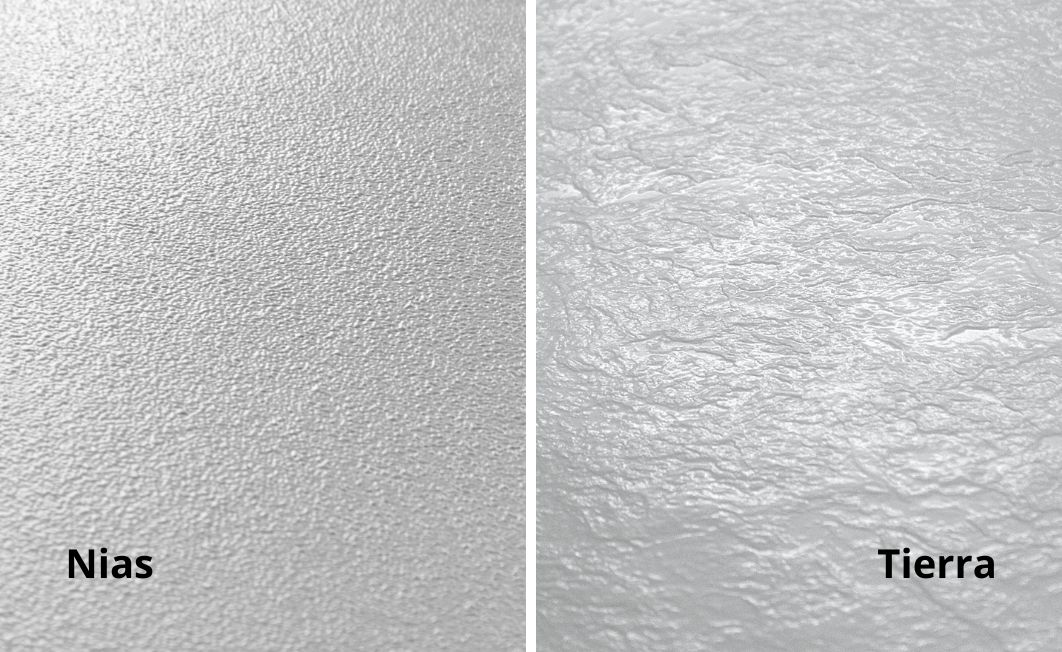 The highest quality and natural origin is one of the characteristic for mineral cast, the material used for these bathroom shower trays. It is known for its resistance and ease in removing abrasions, scratches, distortions, and potential damage. Mineral shower tray material harmonizes well with other elements like wall and floor tiles, creating an aesthetic, luxurious, yet tactile bathroom space. Additionally, mineral cast shower trays are easy to clean, possess aseptic properties to prevent mold and fungus growth within the structure, and are resistant to chemical substances. Structural shower trays, inspired by nature, are increasingly popular. Their slightly porous structure provides anti-slip properties, enhancing safety within the shower area.
Our offer includes two series of structural shower trays:
Nias boasting the highest C-class anti-slip rating,
Tierra with a B-class anti-slip rating.
Structure shower trays - how create small bathroom with shower tray?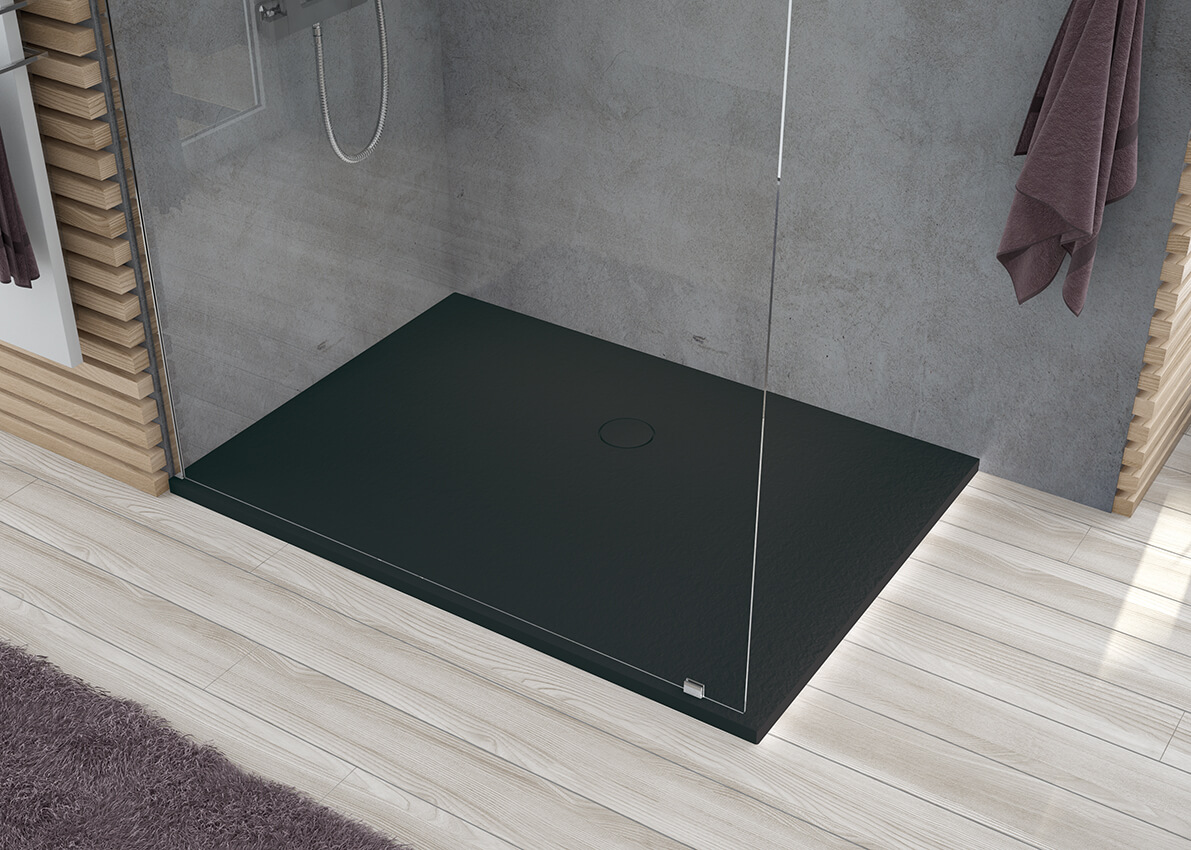 How important is the size of the bathroom? Huge for the architect and designer, and almost negligible for structural shower trays made of cast mineral. Thanks to the ductility of this material and the wide range of dimensions, you can easily fit a shower tray into a small as well as a much larger bathroom space.
 In our portfolio you find small structured shower trays in square, rectangular and quadrant shapes in ready-made and most popular sizes: 70x70cm, 80x80cm, 80x90cm or 90x90cm, but also large ones reaching in size up to 100x200cm.
In addition, in the Nias range you will also find customised shower trays, the answer to the demanding needs of anyone facing the task of fitting out their bathroom. This individualisation makes it possible to create a structured shower tray that is perfectly tailored not only to the shower but also to the entire bathroom space.
The Tierra series comprises 55 dimensions, perfectly matching the needs of the market. The shower trays in this series have no rim, allowing the shower area to be harmoniously integrated into the overall bathroom.
The shallow depth of only 1.5 cm and the low flange make it easy to install both shower trays at the floor line. This solution is much more comfortable and also optically enlarges the bathroom space. It is also a key convenience, allowing for trouble-free and safer showering.
Custom-cut shower trays - transforming a small bathroom into luxury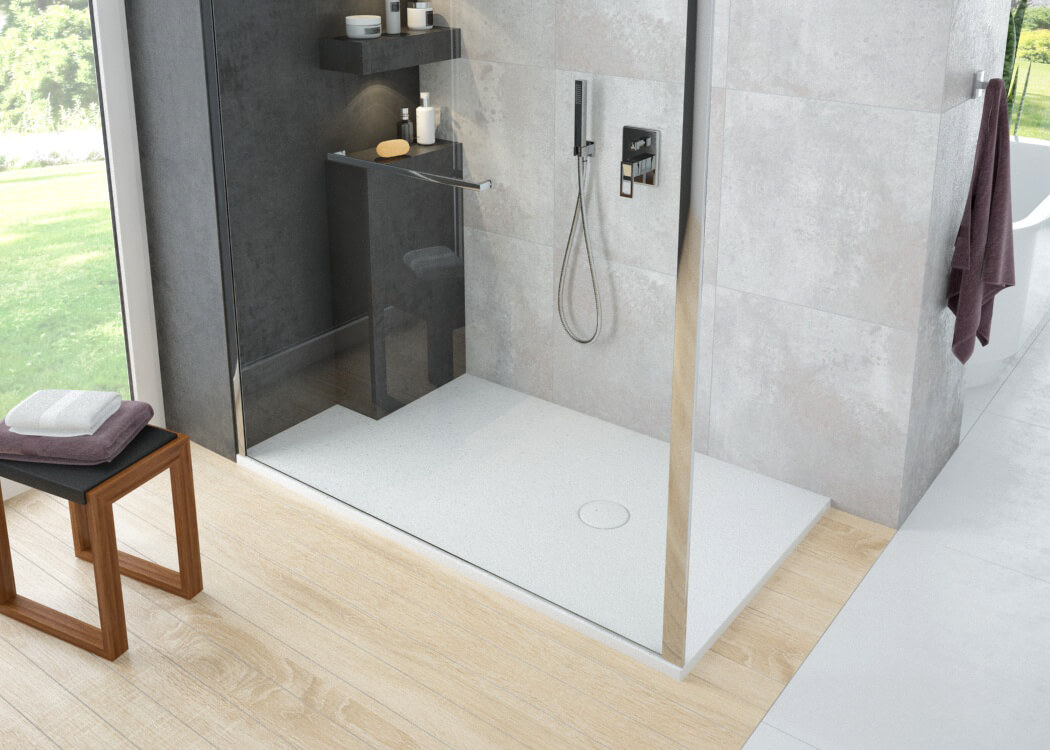 Market-available solutions enable the selection of products that perfectly meet our needs. Among our proposals, you can find structural shower trays and other bathroom fixtures tailored to your requirements and style. The fusion of nature and individual design allows for the creation of luxurious arrangements that need not be costly. Our sanitary products all exhibit top-notch quality coupled with an attractive price.
Designing a functional yet visually appealing bathroom is indeed a challenge. Creating a space that combines so many elements need not involve numerous sacrifices. Arranging a visually appealing bathroom that positively influences well-being while being practical is the key to success.
Custom-cut shower trays - designing your space
Imagine being able to create the space around you. Introducing a modern and durable shower tray that you can shape according to your vision. All thanks to customization possibilities, meeting the expectations of a wide range of consumers.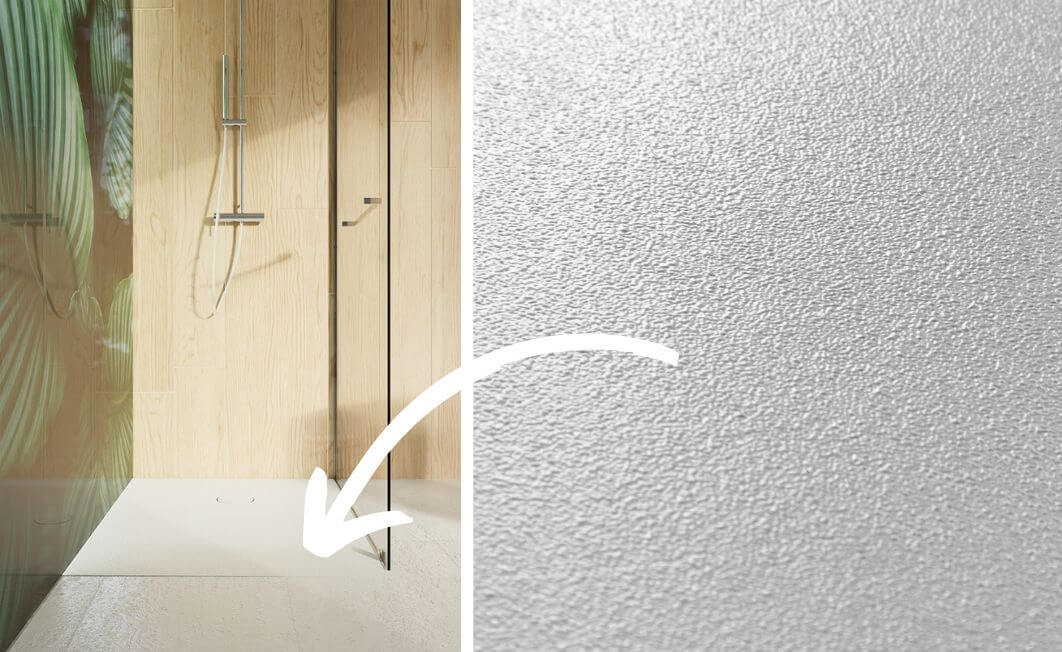 We all agree that a good shower tray should be sturdy and last for years. Thus, the material it is made of is essential. Our brand's offer includes, among others, Nias shower trays made of cast mineral. Their exceptional textured surface sets them apart. Moreover, products made from cast mineral excel in resistance to wear, meaning they will maintain their original appearance for a long time. This modern solution is gaining popularity in many european homes. It is an investment that quickly pays off, making it well worth considering for your bathroom.
It is also an excellent alternative for those with a unique vision for their space. Furthermore, it is the perfect shower tray for small bathrooms in apartments. You can create a shower tray of any size or adjust it to existing structures without the need for costly renovations. Designing a small bathroom becomes much simpler with a personalized tray design. Thanks to our innovative solutions, you do not need to compromise on anything!
With the custom-cut Nias shower tray line, you can create a unique and functionally perfect shower area. An elegantly and cozily arranged bathroom should not only be a visual delight but also positively impact well-being while remaining practical. Creating a bathroom where you feel at ease is essential. Custom-cut shower trays provide a solution that suits those who value original and unconventional spaces. They are also an excellent option for bathrooms designed for people with mobility issues. Installation level with the floor provides a barrier-free entrance.
How to choose a custom-cut shower tray?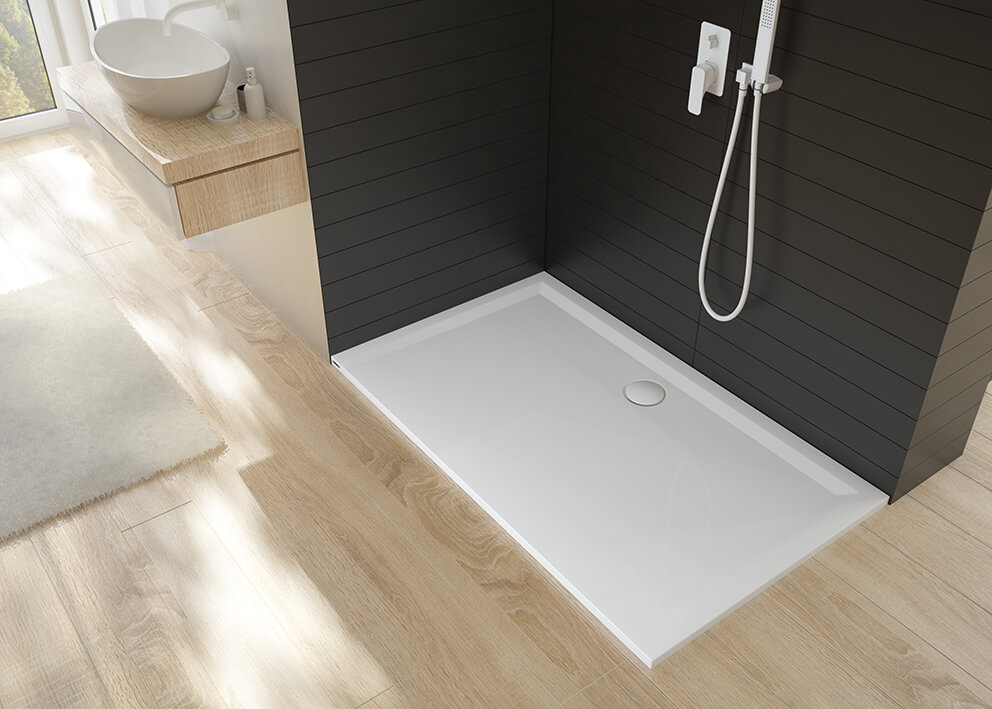 Before installing a custom-cut shower tray, consider a few aspects:
measurement and design - The first step is precise measurement of available space. Measure the length, width, and depth of the area where you want to place the tray. Consult with a professional manufacturer or installer who can help you select the right-size custom-cut shower tray, considering your preferences and needs.
shape - custom-cut shower trays offer the freedom to choose non-standard shapes. Opt for a square, rectangular, or quadrant shower tray cut to the size that perfectly fits the available space. Moreover, custom-cut shower trays can be made in irregular shapes. Our offer includes shower tray, allowing you to adapt the tray to the installation plan and bathroom arrangement.
installation and maintenance - for custom-cut shower tray installation, professional help is recommended. Consult a suitable installer experienced in custom tray installations. Additionally, pay attention to maintenance instructions to keep the tray in good condition for a longer time.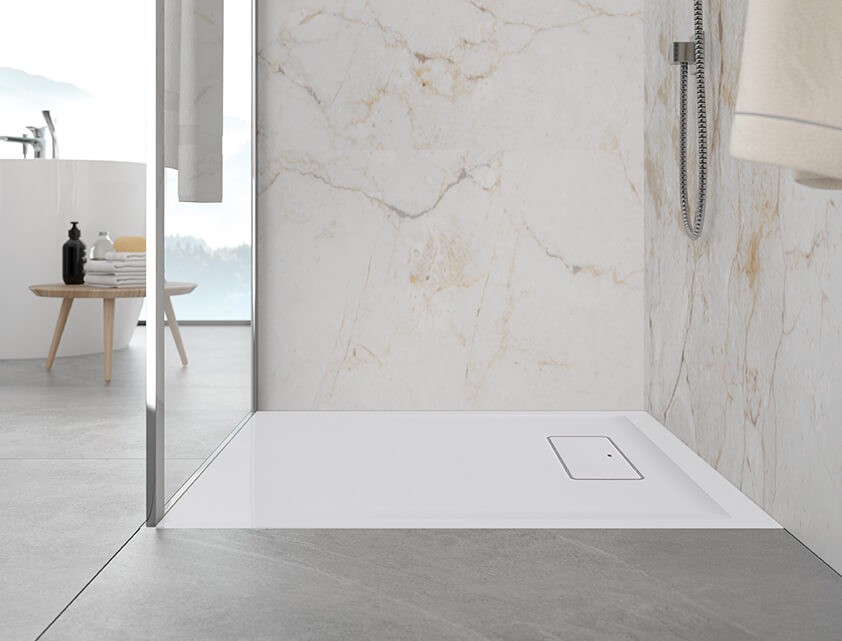 Custom-cut shower trays are an excellent solution, allowing you to tailor the shower tray to your individual needs and bathroom dimensions. Benefit from professional services and advice to create the perfect solution for you.
 Selecting the right shower tray for a small bathroom is an important task. By choosing a shower tray with a minimalist design and functional additions, you can create an ideal solution that visually enlarges your bathroom space. As evident from the above text, a small bathroom with a shower tray poses no problem. Small shower trays are available in smooth and textured surfaces. Among our proposals, you can find numerous options. If you are wondering which shower tray to choose for a small bathroom, check out our product portfolio, and you surely find a solution that meets your expectations, matches your bathroom's design style, and accommodates the needs of every user.