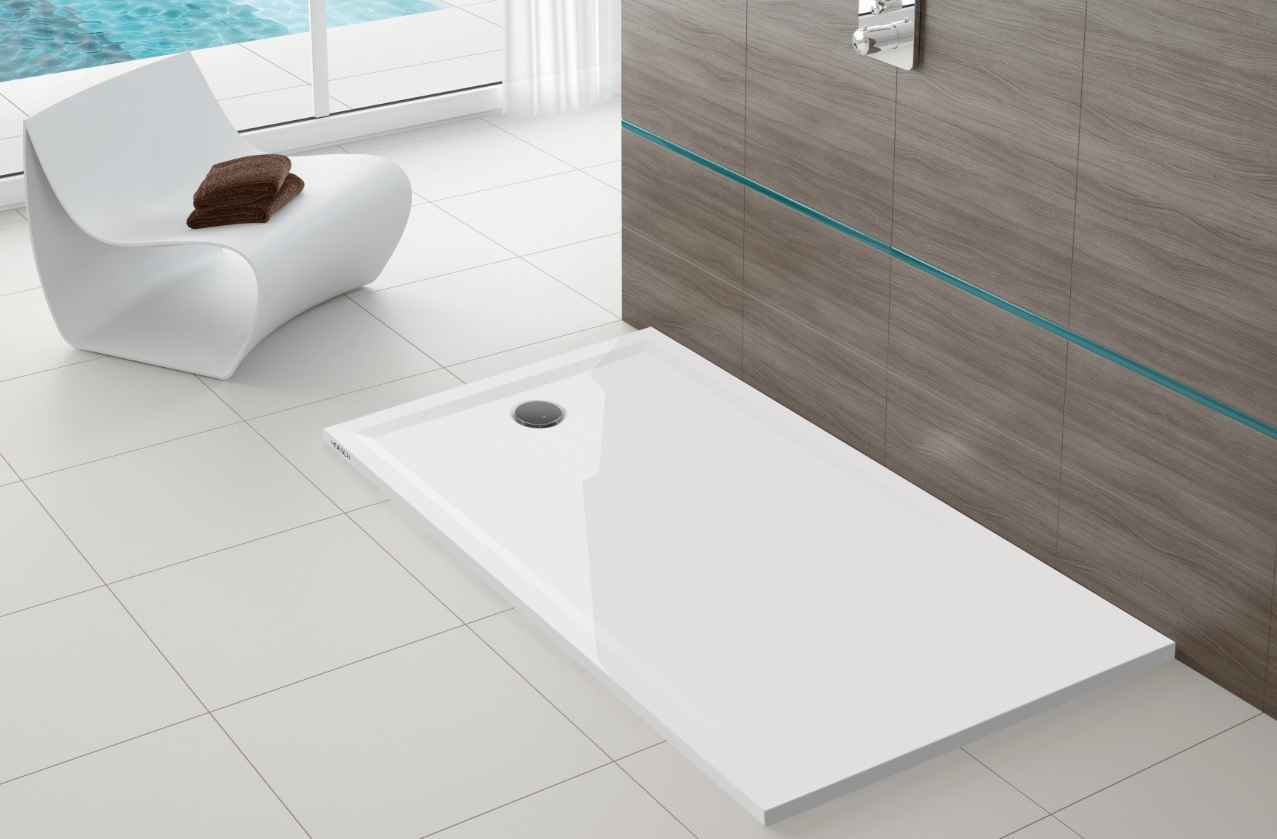 The high-quality mineral cast material has evolved from being a trend to becoming a veritable best-seller. HOESCH, the renowned bathroom manufacturer, is synonymous with products made of resource-conserving and natural raw materials with lasting appeal. Its innovative Solique material has been a total success – a high-grade composite material made of dolomite, resin and hardener, which can be machined extremely precisely and delicately.
Back in 2012, the MUNA shower tray was the first HOESCH product to be made from Solique and was immediately a best-seller on the sanitary appliances market. The extremely hard mineral cast material, from which it is made, has lasting appeal with people with its first-class material properties and its durable and smooth Gelcoat finish. Since then, the shower trays, only 30 mm deep, have been wowing users and installers alike – firstly through their sophisticated appearance and sleek design, and also through their ease of installation and care. An extremely pleasing feature is also the fact that the surface feels noticeably warm on contact with the skin and, thanks to Solique, even large showers trays are totally dimensionally stable and durable for many years to come.


It is therefore no wonder that HOESCH is continuing to expand its MUNA range with coordinated shower enclosures, complementary washbasins and many additional sizes, including the MUNA S with a drain on the narrow side of the tray.
The remaining HOESCH range now also includes many attractive and successful Solique products for bathrooms. They include:
 

the oval NAMUR free-standing bath – awarded the German Design Award 2016 – with the matching NAMUR washbasin

the sweeping NAMUR LOUNGE bath and washbasin interpretation

the rectangular-round and free-standing LaSenia bath with its matching washbasin

the minimalist Carta washbasin and the elegant NIAS and SOLA shower trays.
HOESCH therefore offers the perfect and elegant solution for every bathroom – all made of high-grade Solique and also suitable for accessible bathrooms. The 490 mm high LaSenia bath model and the MUNA shower tray both comply with the DIN 18040 standard
for barrier-free baths – and the NIAS and SOLA shower tray ranges can also be installed barrier-free.
With so many benefits, it is clear why more and more users and installers have only one answer when it comes to finding an aesthetic and sophisticated solution for bathrooms: "Naturally Solique by HOESCH!"