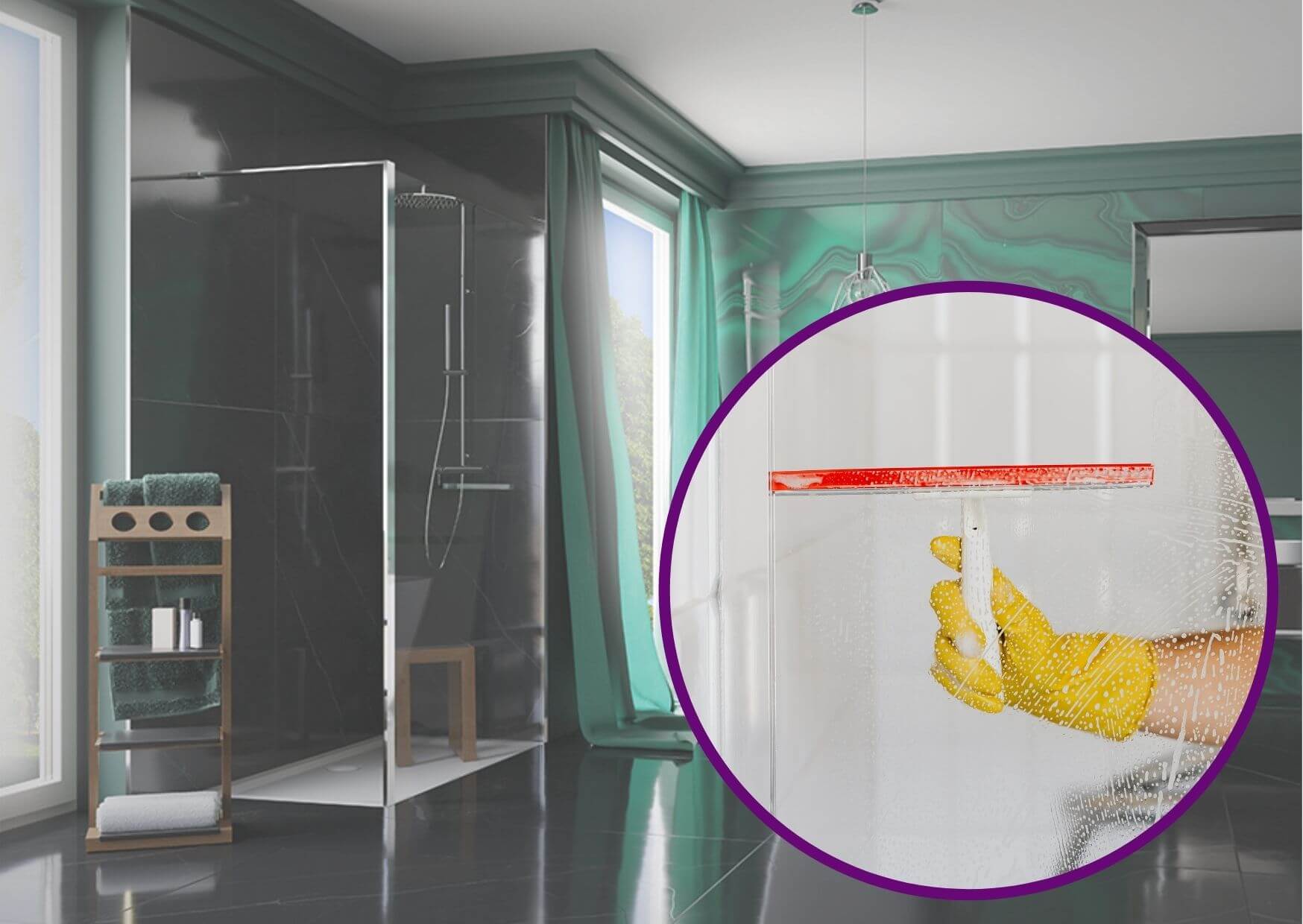 After using a shower for a long time, unsightly stains and deposits can form on the walls of the shower cubicle. Then even the most beautiful model of shower cubicle loses its charm. What makes restoring the original shine even more difficult is the fact that cleaning shower cubicle deposits with chemicals can also damage the glass surface and leave scratches. So how do you remove stubborn and recurring deposits to get a smooth, clean and shiny shower enclosure surface? Here are some tips!
Prevention first
It's always better to prevent build-up on your shower walls than to fight it later. Regularly rinsing the shower after every shower and using a squeegee with a rubber coating will prevent soap residue (and other dirt) from building up on the shower walls. In our hectic everyday lives, however, it is difficult to be so systematic - hardly anyone, for example, manages to take the time to clean the shower cubicle after their morning shower before going to work.
The easiest way to rid the shower cubicle of deposits seems to be to use chemicals that are supposed to remove the dirt quickly and effectively. However, many cleaners contain microbeads that can damage the surface of the shower walls, causing permanent tarnishing and scratches that are visible to the naked eye. Therefore, cleaning agents, sponges, brushes, cloths and cleaners should be used with care - materials that are too hard can also damage the surface of the shower enclosure. Therefore, you should choose soft and versatile microfibres and gentle cleaning agents that are as environmentally friendly as possible, among other things. You probably already have some of these at home.... or rather in your kitchen.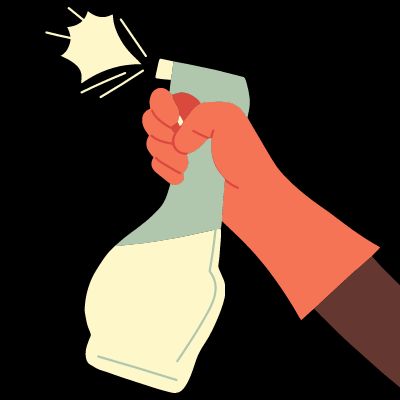 Our grandmothers and mothers had (have) many tried and tested methods for dealing with everyday problems - from relieving a toothache to removing stains from a shirt. Much of grandmother's advice is still valid today and surpasses the effectiveness of many modern solutions. So before spending money on yet another miracle cure touted in the media, trust the experience of past generations and try tried and tested home remedies for cleaning shower glass.
We know how important it is to keep your bathroom spotlessly clean and how tedious it can be to remove deposits from shower walls. That's why we're presenting you with the 3 best home remedies to rid shower glass of build-up in our handy mini guide:
1. spirit vinegar - a safe and inexpensive cleaning agent
There is probably no more versatile substance that almost everyone finds in their kitchen. In the bathroom, vinegar can be the main cleaning agent to rid the shower cubicle of debris, soap residue and even limescale. Simply add equal parts warm water and vinegar to the spray bottle and use this solution to clean the shower glass and, if necessary, the faucet and grout. After a few minutes, wipe off the sprayed surface and rinse with hot water. For particularly stubborn stains, wipe generously with undiluted vinegar and rinse after a few minutes.
2. citric acid - mild fragrance, strong cleaning effect
For those who are bothered by the strong smell of vinegar, we recommend using a solution of warm water and citric acid in the following ratio:
● 1 tablespoon of acid to 100 ml of water.
After mixing the ingredients, apply the solution to the surfaces to be cleaned (e.g. by decanting it into a spray bottle beforehand), leave it to act for at least 10 minutes and then rinse with warm water.
However, cleaning the shower cubicle of deposits with citric acid is not a good option for owners of natural stone floors. This substance can cause discolouration and micro-damage to the surface of marble, granite or travertine. So if you have even one stone element in your shower, it is better to avoid citric acid.
3. a reliable duo against mould and fungi - hydrogen peroxide and baking soda
Baking soda and hydrogen peroxide (in a concentration of 3%) help in the fight against various types of deposits in the shower area, mould and fungi.
If mould has formed in your shower (usually on the grout lines and right next to them), sprinkle baking soda over the area and let it sit for at least 10 minutes. In addition, if you notice dark spots on the surface that indicate fungal growth, pour hydrogen peroxide over the surface (still covered with baking soda) after the specified time. Clean the dirt thoroughly with the resulting mixture. As a final cleaning step and as a regular practice, the area should be sprayed again with hydrogen peroxide and allowed to dry completely.
Cleaning the shower cubicle of debris - fast, environmentally friendly and, above all, effective.
There are, of course, many ways to keep your bathroom clean. But before you reach for strong chemicals, which are often not kind to the environment, the household budget or even the surfaces you're cleaning, it's worth at least trying natural solutions.
Home remedies for cleaning shower glass are simple, cheap and, above all, effective. Their effectiveness should surprise even the most sceptical.