Bath accessories Experience natural materials…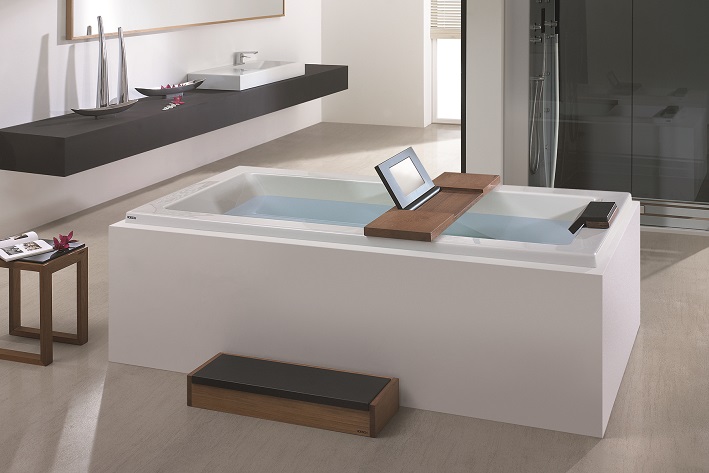 Think of useful bathroom accessories
Only a hygienically clean bathroom can turn into a true wellness paradise, where the desired energising relaxation is waiting for us. Although bathroom equipment made of high-quality acrylic can be rinsed with pure water, some practical care sets belong to the basic equipment of any bathroom: fine abrasive paper and a special polishing cream letting scratches and matte spots quickly disappear, as well as gentle special cleaners that dissolve even strong stains. You can also complete your bathroom concept with design accessories. In cooperation with the team of yellow design, the creative ideas by Hoesch were implemented with high-quality materials, modern aesthetics and extraordinary functionality in many useful products, making your life more beautiful. Enjoy furnishing your bathroom.
Arrange every detail of your bathroom
Safely step into your bathtub pleasure via an anti-slip step. Slow immersion into steaming water gives us the intense feeling of soaring happiness in our body. Lean your head against the comfortable neck rest and enjoy pure wellness delight. In addition, there is enough space on the  practical bathtub shelf with mirror for a cocktail or a book – whatever you feel like doing. When you finish your bath, an integrated tub grip helps to keep your balance when leaving the tub. Subsequently, the care products or other utensils are easier on hand when placed on a wide wall shelf, a solid stool or a valet stand. In this way, Hoesch achieves increased quality of life by clear, reduced design: thanks to the convincing material mixture of black PU coatings and water-resistant teak wood, all bathroom accessories are functional with a stylish appearance.